The Vineyard
The History of the vineyard
It was the hot summer of 1976 that induced Charles and Petronella Humphreys to plant vines on a particularly dry slope on their farm. It took nearly twenty years and two changes of site before the first commercial crop was harvested in 1996 but, since then, the wines from Hazel End have enjoyed a growing reputation reflected in the award of a gold medal at the national Wine of the Year competition in June 2011.
The grapes planted at Hazel End are all white and, until 2001, the wines made from them were all still wines. The first sparkling wine, made from the 2001 vintage, was available in 2003. The still wines have always been sold under the "Hazel End" label but "Three Squirrels" was chosen for the sparkling, inspired by the sign that has hung outside Gosling's Bank (now Barclays) at 19 Fleet Street since the 17th century where Samuel Pepys once enjoyed "a pint of wine". Hazel End has been Gosling territory for over two centuries.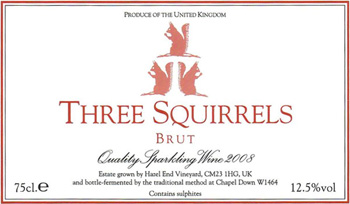 There is no winery at Hazel End. The grapes are taken immediately to a professional winery which makes the wine, bottles it and then ships it back to Hazel End for sale. All the wines up to and including the 2008 harvest, were made at Chapel Down, the well known winery near Tenterden in Kent. Subsequent wines have been made by Rob Capp, winemaker at Shawsgate near Framlingham who struck gold with the very first wine he made for us. Shawsgate is not equipped to do the second fermentation to make sparkling wine by the traditional method, so recent vintages have been finished by Wiston's Dermot Sugrue, formerly winemaker at Nyetimber. Dermot won the winemaker's Decanter Gold Medal in 2014 and Wiston's wines have gone on to triumph in many competitions, even launching the UK's largest passenger vessel, the Britannia.
The main vineyard was planted over a three year period from 1990 to 1993 and so the vines are now around 25 years old. Vines can live for much longer than that, of course, but at 25 years they are approaching their maximum yields and are showing the character and subtleties of the terroir. Four varieties were planted - Muller Thurgau, Huxelrebe, Reichensteiner and Bacchus. The 1993 Bacchus was unsuccessful but we replanted the variety in 2009 on the original Hudshill site which is now producing enough grapes to make a single variety still wine.
For the technically minded, the area under vines is now about 4 acres. It is around 73 m above sea level and the vines are planted in rows 2.44 m apart with 1.22m between the vines. They are all trained on the Double Guyot system.